This is a page of apparatus that has been retired from service by the Legofield Fire Company.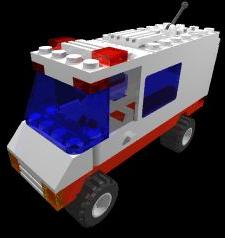 Retired January 3, 2000
Rescue 2 is a modified version of LEGO® set 6666. Rescue 2 is a light transport, meaning that it carries no equipment besides a stretcher. If a patient needs medical attention during transport, either Rescue 1, from Station 1, will be called in, or the first aid or als equipment on Engine 2 will be used. The main reason Rescue 2 was purchased was because of its 4wd capabilities. In the instance that medical equipment is needed on an off-road rescue, the equipment will be supplied by Heavy Rescue 2 or brought via Truck 2.
Retired February 18, 2000
Rescue 1 was designed after a 1992 Ultimaster. It is a light rescue/ambulance which seats a crew of two; the driver and a rear facing attendant. If necessary, Rescue 1 can carry a life raft on its roof. Rescue 1's equipment consists of a first aid kit, a trauma kit, an oxygen bottle, a two way radio, a shovel, and a rescue saw.
Retired February 18, 2000
Ladder 1 has a crew of one. It was donated to LFC by a neighboring department who was looking to give it a good home as they had just purchased a larger hook & ladder truck.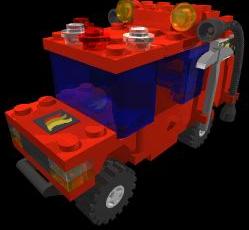 Retired August 10, 2000
Brush 2 is a customized pick-up style Hummer. Brush 2 carries a pump and three draft hoses which supply water to a hose reel. The cargo area is accessed by swiveling the rear deck. The chassis for this model was designed by Bram Lambrecht.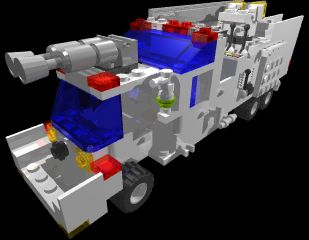 Retired August 10, 2000
Engine 1 is a first responder engine. It has a cab which seats three. Engine 1 responds to every call and is manned by three crew around the clock. Engine 1 has an inlet on both left and right sides, and discharges on the right side and the front bumper.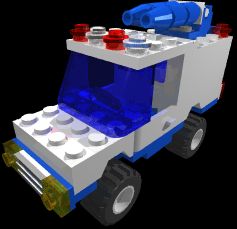 Retired September 1, 2000
Foam 1 is a customized Chevy Blazer. Foam 1's equipment consists of only a first aid kit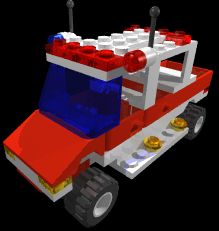 CAR 1
Car 1 is a two person crewcab pickup truck. Its tools consist of a dry chemical fire extinguisher, a SCOTT® air pack, a rescue saw, and anything else that might have been added during the last use.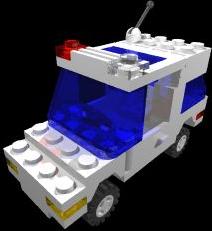 Retired January 24, 2001
Car 2 is the Battalion chief's car which is stationed out of Station 2. Car 2 is a customized Subaru Forester. Car 2 has an opening rear hatch to access the cargo area.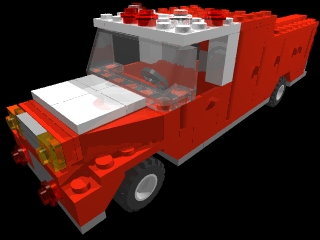 Retired January 20, 2001
Utility 2 is a one-man utility truck, as its name implies. Utility 2 is used mainly on extrication and water related calls. Although all of the truck's standard equipment is stored in compartments, there is room on the top of this area for more tools. This area was originally a hose bed because before being bought by the Legofield Fire Company, Utility 2 was used as a hose truck.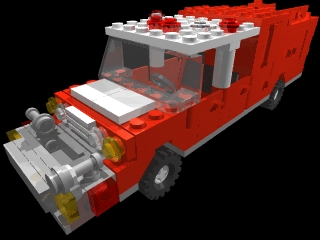 Retired September 23, 2001
Engine 2 is a slightly customized Sixby Vision Pumper with a crew of three. Engine 2 is first responder, responding to all calls. It has basic, but essential, firefighting tools and also carries advanced life support equipment.
Updated by Ryan Dennett on 09/23/01